Motorists planning to travel on Interstate 70, visit rest areas or use the recreation path in Glenwood Canyon should pay close attention to road conditions on COtrip.org and weather forecasts. If there is rainfall on the Grizzly Creek burn scar above the roadway, there may be  a safety closure due to the potential for mudslides and other debris flow. If there is a significant vehicle crash, there may be extensive delays or a closure.

2021 Recommended Detour & Alternate Route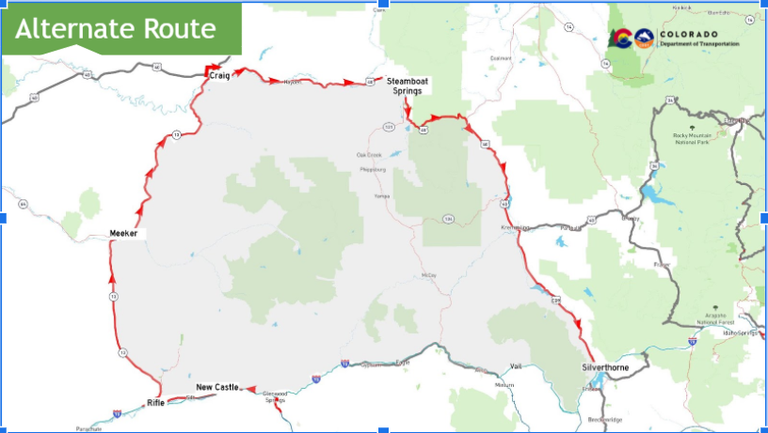 CDOT strongly asks that motorists use the recommended northern alternate route via I-70 – CO 9 – US 40 – CO 13. Westbound motorists from the Denver metro area should exit I-70 at Exit 205 (Silverthorne) and travel north on Colorado Highway 9 towards Kremmling. Travelers will continue west on US Highway 40 and then south on CO 13 to complete the alternate route and return to westbound I-70 at Rifle (Exit 90). Eastbound travelers can detour using the same route in reverse.
Before detouring onto any alternate route, motorists should refer to COtrip.org for the latest road conditions.
NOTE: GPS may show alternate routes but keep in mind, many of the routes are impassable with non-4×4 vehicles (without clearance) and there is NO CELL phone reception on the suggested mountain roadways! 
Prepare for Traveling on I-70 in Glenwood Canyon
Plan ahead, know before you go and check for the latest road conditions by going to COtrip.org.
Know the latest weather conditions.
Give yourself extra time and avoid traveling during adverse weather conditions.
Have an emergency kit in your vehicle, including extra food, water, medicine, clothing, batteries, and other necessities – enough to sustain you for ten hours.
Make sure your car is in safe driving condition with adequate tires.
When on the road, obey the speed limit and don't follow too closely; speeding and tailgating are among the leading causes of crashes, injuries, and fatalities.